TELESCOPIC GARDEN TOOLS
With a long-lasting battery, no task is out of reach.
Our range of telescopic garden tools
Complete with EGO POWER+ technology, EGO's telescopic garden tool range gives you the reach you need to complete any task safely. Trim tall hedges, prune high branches, without fuss using the latest telescopic technology.
MAXIMUM REACH, MANOEUVRABILITY AND CUTTING POWER FOR HIGH BRANCHES AND HEDGES.
EGO's Telescopic Pole system enables you to work on those harder-to-reach jobs with ease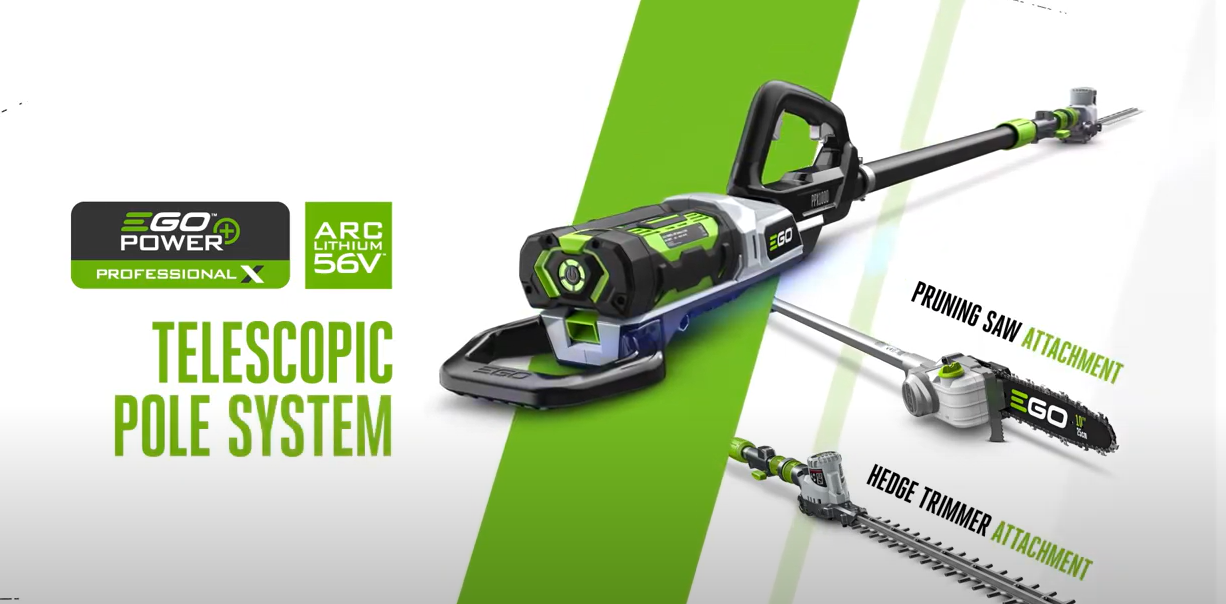 OUR TELESCOPIC RANGE, POWERED BY EGO BATTERY TECHNOLOGY
Powered by EGO ARC Lithium batteries, our Telescopic pole, Telescopic hedge trimmer and Telescopic pole saw has the most advanced tech in the industry. Rechargeable, emission free, portable and with less vibrational output, our cordless technology is the perfect solution for the modern gardener.
PPX1000 Telescopic Pole
Designed to give you accessibility to cut high branches or trim tall hedges, our telescopic pole is equally as effective at less than arm's-length too. Eliminating the need for a ladder or platform to stand on, our telescopic pole allows you to take a much safer approach when undertaking an out-of-reach task.
PTX5100 Telescopic Hedge Trimmer attachment
With a total length of 2.7m, 6 adjustable cutting angles and laser-cut, diamond ground blades, our extendable hedge trimmer allows you to cut tall hedges without additional equipment to help you reach. Thanks to our long reach hedge trimmer's dual action, it outputs less vibration too making it safer than their petrol powered equivalents.
PSX2500 Pole Saw Attachment
Chew through thick, high-up branches up to 20cm in diameter with EGO's telescopic pole saw. With a maximum extended reach of 4m, you can prune awkward branches without having to scale ladders and put your safety at risk.
PS1000E Telescopic Pole Saw
Work on those hard-to-reach areas with ease. Made from carbon fibre, our lightweight Telescopic Pole Saw reaches lengths of 4m when fully extended, plus an extra metre-long extension pole for those branches you couldn't reach before - and, thanks to its motor located at the head of the tool, maintains great balance and ergonomics.
THE POWER BEHIND OUR EXTENDABLE RANGE
All EGO extendable tools are cordless and powered by our 56V battery system which means you can trim an out-of-reach hedge or high up branch with ease.
Our unique patented 56V ARC Lithium™ batteries provide you with the power you need. Keep Cool™ Technology keeps them working long and hard and prolongs their life, too.
EGO batteries out-perform running times for petrol-powered garden tools and telescopic range, and don't give off any toxic emissions.
All our batteries are interchangeable across the entire EGO Power+ cordless garden tool and telescopic range - there's a battery for every tool and every job. As the batteries go up in size, so does the power capacity and run time.