EGO Power+ Hedge Trimmers
Light, powerful and with all the power you need, our range of hedge trimmers have a number of clever features to make every cut more comfortable
Our range of cordless hedge trimmers
EGO cordless hedge trimmers are engineered to deliver impressive cutting ability from a single charge. Alongside robust safety features, the clean power of the ARC 56V battery and the brushless motor get the job done with less noise and vibration, and zero emissions
EGO Power+ Extended Warranty
All EGO Power+ products come with a domestic user 5 year warranty on tools and 3 year warranty on batteries.
EGO Power+ Hedge Trimmer
Balanced, precise, powerful. With diamond ground laser cut blades, a single charge delivers impressive run times that you'll be amazed how much hedge you can cut.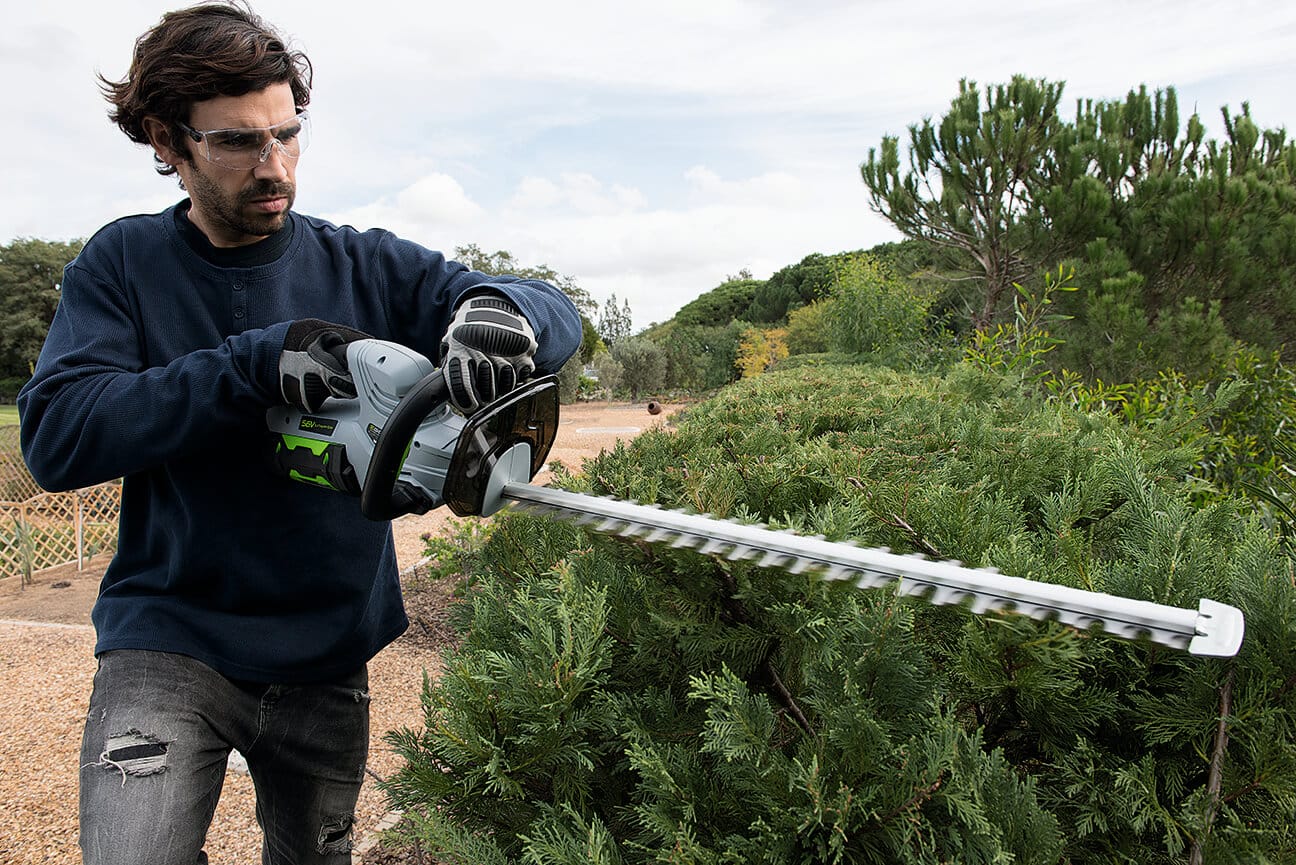 Hedge Trimmer

This is a great hedge trimmer and the battery supplied with it lasted all day using it on and off throughout the day…the best hedge trimmer I have ever used..

Mrs Moran

EGO Hedge Trimmer

Powerful light and fume free what more could you ask!

JohnB50

The hedge trimmer works exactly as expected.

The fundamental point is that it functions exactly as expected. I trialled it on a really dense privet hedge to lower it at about a metre width. (I knew nesting is about to get serious so I only took off the top 6 inches) The hedge was trimmed last December with a Cordless Bosch and it would not cut into the denser wood. The EGO got me another 6 inches into the denser growth easily. I would have gone further if the nesting season was more distant. So, very pleased. It's not too heavy and is easy to control.

Retired Greyhound

Best hedgetrimmer you'll ever buy

Having used Stihl petrol trimmers I had read much about the EGO hedge trimmer with 56v power and it certainly doesn't disappoint! Powerful, light, incredibly sharp and cheap to run/maintain. I've used the trimmer commercially over the last 6 months and its handled many types and sizes of hedge with ease.

Paul R

Green is the new Orange

Quality equipment for a much lower price than the orange competition. You will definitely need a couple of batteries to tackle large hedges but the power and performance of the machine is excellent.

Anon

Garden has never looked so good

I relied on my gardener with his heavy, smelly petrol hedge cutter to shape shrubs and hedges in my garden until I bought the EGO trimmer. Now I just go around trimming things exactly the way I want.....it slices through everything with ease. It's very powerful and the long reach allows me to make perfectly level sides and tops. Even with the 2.5Ah battery, it lasts long enough to get the jobs done...and I have a big garden. 10/10

Anon