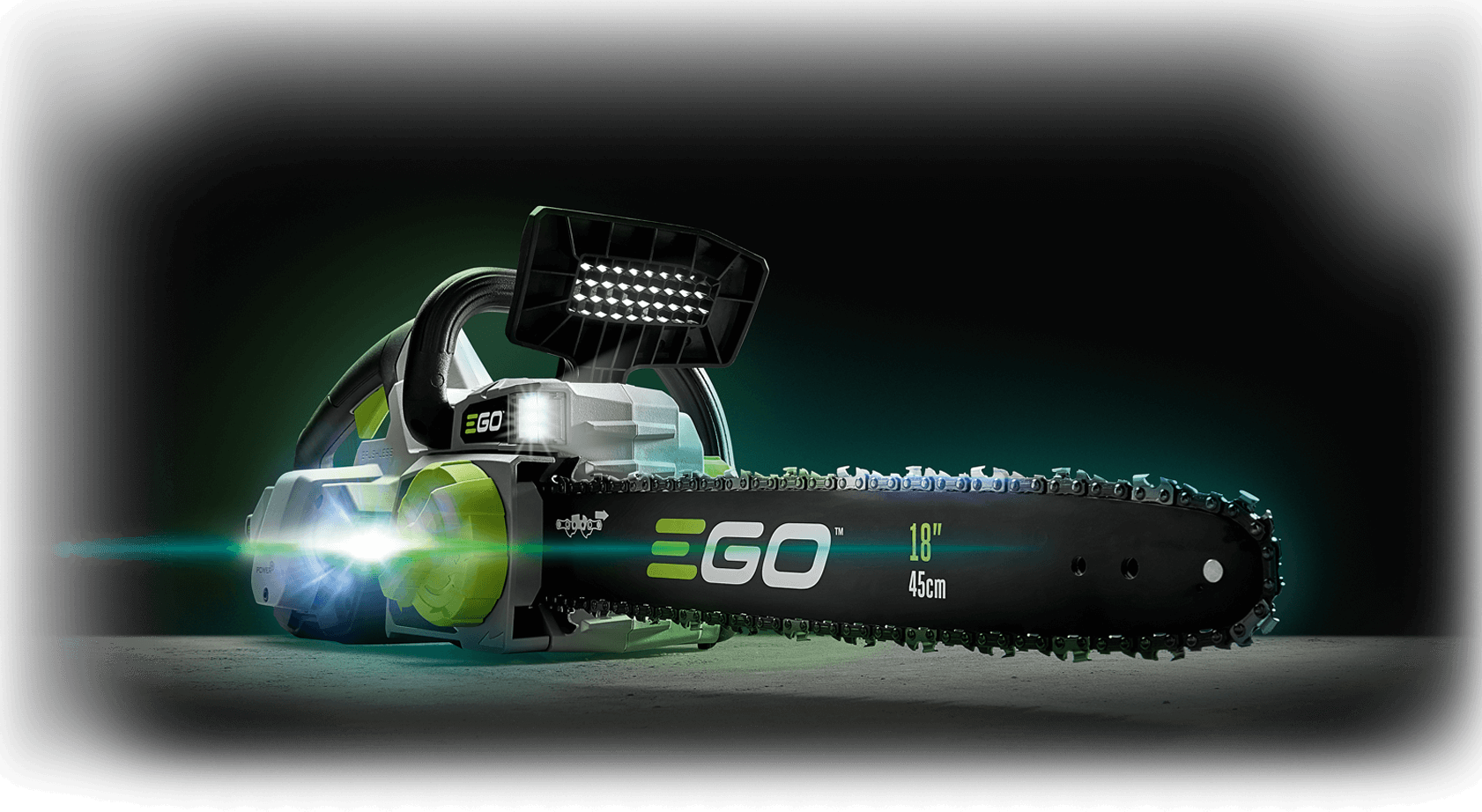 CS1600E
40cm Chain Saw
Featuring a 40cm bar length and 13.5m/s chain speed, the CS1600E cordless chain saw gives you the power to work quickly through trunks, logs and branches. Chain tensioning is tool free, and the auto oil lubrication system means you only need to worry about keeping it topped up.
Bar length (cm)

40cm Bar Length

Chain speed

13.5 M/S Chain Speed
Full Product Description
Welcome to incredible power, cut, after cut, after cut. The CS1600E cordless chainsaw is built to tackle the hardest of jobs. The 40cm chain bar can cut through branches and medium sized logs with ease, all while feeling safe in the knowledge that the chain brake will keep you from experiencing kickback whilst enjoying your work.
One battery, multiple tools. Each EGO Power+ 56V arc lithium battery works with all our tools, so the addition of the CS1600E battery-operated chainsaw to your collection of EGO Power+ garden tools will be a worthwhile purchase. Our batteries deliver the highest capacity in any portable handheld, so you can enjoy the 13.5 m/s chain speed without the power and torque wavering.
The brushless motor makes the output efficient and powerful, and helps to keep the vibration and noise ratings low, meaning the risk of HAV and any ailments due to noise exposure are greatly reduced, therefore positively effecting your health. And when it comes to the health of the chainsaw, the 150ml oil reservoir has an auto-lubricating system which will keep the chain spinning freely, especially when working on sappy woods
Benefits of EGO Power+ Technology
Delivering the power you need, for every job. Our 56V ARC Lithium™ battery is a marvel of engineering that surpasses the competition on every level, and have the capability to out perform petrol. All our 56V ARC Lithium™ batteries are interchangeable across the entire EGO cordless range - so there's a battery for every tool and every job.

As a mature, market-leading company and part of the Chervon Group, we pride ourselves on best practices that ensure our products are of the highest possible standard. In fact, we're so confident in the quality and performance of our tools that we offer industry-leading warranties for tools and batteries purchased by professional and domestic users.

At EGO, we think beyond performance. Our experts are relentless in their drive to innovate tools for a better world. EGO's 56V ARC Lithium™ batteries not only outperform fuel, they are better for the environment. Help us lead Europe to a battery powered future and commit to the smarter, greener way of working outdoors.
FOR A CLEANER, QUIETER AND SAFER FUTURE.